Fleet park
Noprosu fleet consist of 53 tractor units and 22 trailers (Mercedes, DAF and Volvo). All vehicles are maximum of 4 years of age. As a contract partner we are provided by 24hrs worldwide service. We dispose of new vehicles which stand up to highest emision limits Euro 6.
To economise transport costs of our customers and for enviroment safety we dispose of double decker trailers.
All of our vehicles are monitored by GPS-tracking.
Transport units:
Trailers
Our fleet consist of 60 trailers for FTL shipments, out of which 48 are MEGA trailers with 3m hight and 24t maximum weight of load. 12 návěsů je s vnitřní výškou 2,75 m. All vehicles are equiped by on-line GPS-tracking to provide efective management of vehicle capacity to maximum as well as hight quality of service not only for "just in time" shipments.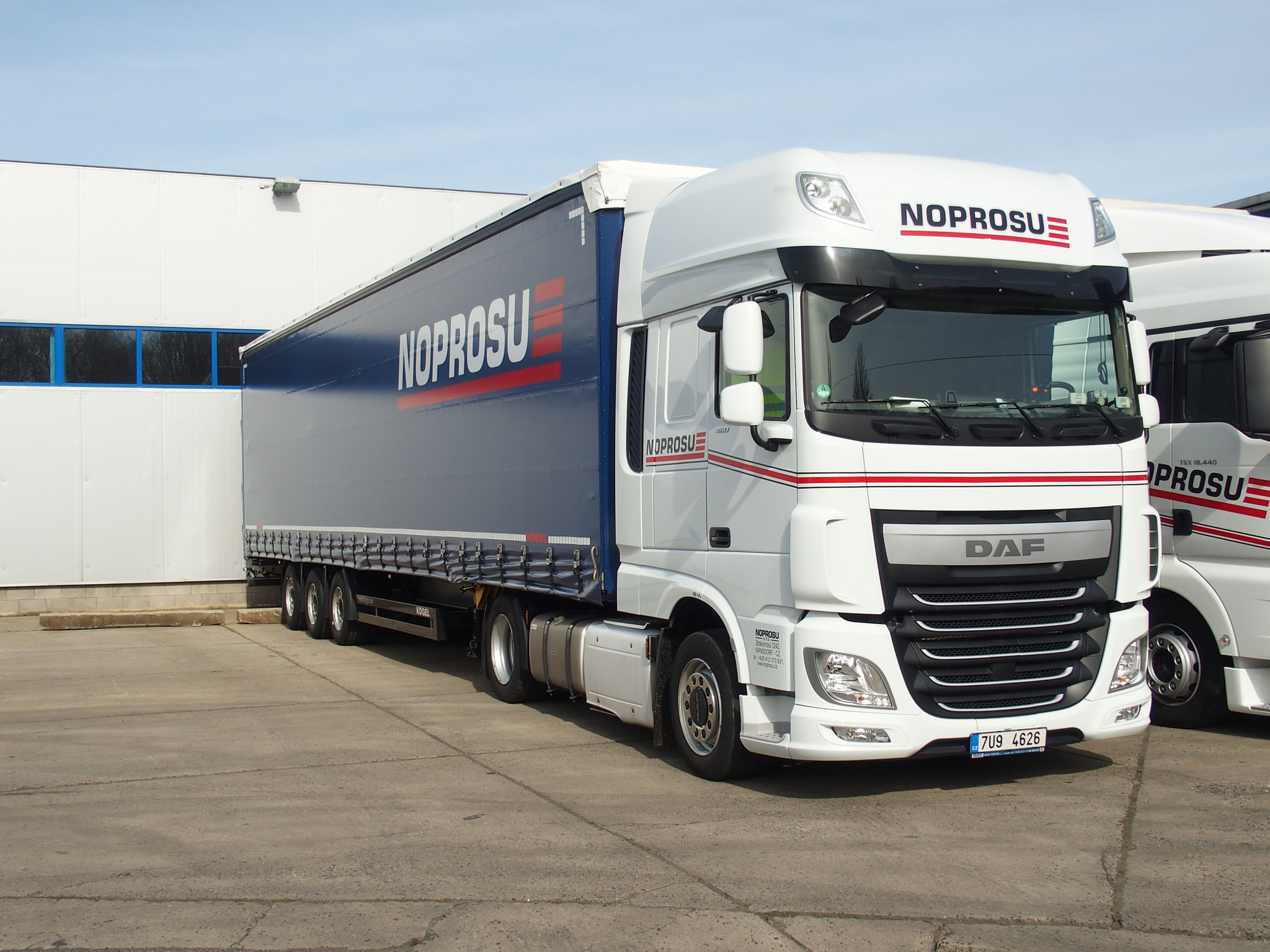 Coil-mulde Trailers
We undestand special needs of our customers and are prepared to offer specialised vehicles. For coil shipments we currently dispose of 10 coil-mulde trailer. These trailer units have specially adjusted floor to secure coil and have Euro-standard or MEGA dimesions (sedlo 1 130 mm). Internal dimensions 13,6m x 2,48m x 2,72m (length, width, height)

Double Decker Trailers
In order to economise friegh of non-stockable material we offer to our customers 12 MEGA double-decker units with adjustable floor. The decking can be placed and multileveled according to our customers needs. Double-decker vehicles have capacity of 66 Euro-pallets, internal height is 2 800 mm.

Swap bodies
We understand that for many of our customers "Just In Time" deliveries are neccesary for fluent and efective production and expedition of goods. We offer 60 MEGA Swap body units to secure the system of deliveries (with internal dimensions 7,3m x 2,48m x 3m (length, width, height))and also for kombined and railway freight.

Gigaliner
-MORE LOADS, LOW FUEL CONSUMPTION
Increasing transport efficiency. With around 80% of all transport tasks, it is not the weight but the cargo volume which forms the limiting factor. Innovative commercial vehicles like the Long HGV – Gigaliner, make an important contribution to increasing efficiency in road freight transport and in the transport chains. They allow fewer journeys, reduce fuel consumption and thus produce fewer emissions.
With a length of 25.25 m and a cargo capacity of up to 160 m³, the Long HGV – Gigaliner, offers you space for up to 50% more cargo volume.Megaliner cargo transport in the Czech Republic requires authorization for excessive costs. In the neighboring Germany, there are already selected routes.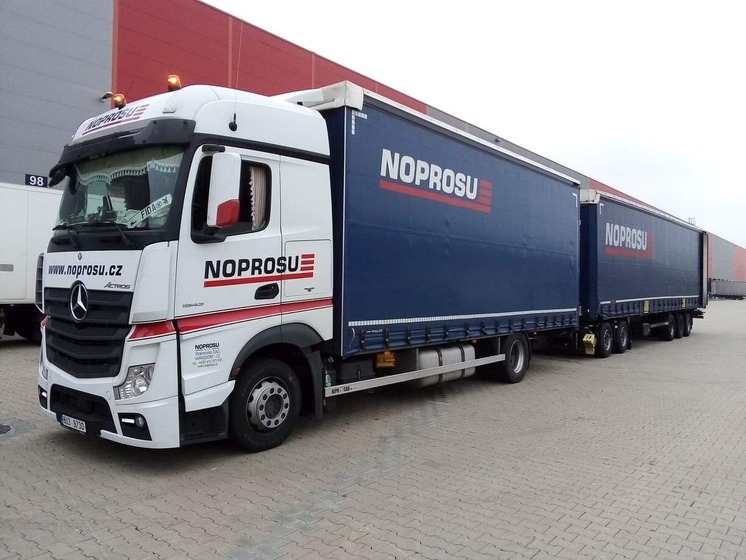 Previous
Next
Sizes of the transportation trailers
| Amount | Capacity (cbm) | Tonnage (t) | Dimensions l x w x h (m) | Note |
| --- | --- | --- | --- | --- |
| 8 | 120 | 22 | 7,75x2,48x3,00 + 7,75x2,48x3,00 | Swap bodies |
| 12 | 120 | 24 | 7,00x2,48x2,95 + 8,10x2,48x3,10 | 24t |
| 19 | 100 | 24,5 | 13,60x2,48x3,00 | Mega Low Deck |
| 4 | 80 | 24,5 | 13,60x2,48x2,75 | Mega Standard |
| 1 | 155 | 42 | 7,75x2,48x3,00 + 13,60x2,48x2,48-3,00 | Mega Liner |
| 46 | 100-80 | 24,5 | 13,60x2,48x2,75-3,00 | Coil Hollow Vehicles |